Our News
What's current at Merrick? Check out our Featured News for the latest headlines.
There's always something of interest going on within our studios, so please read on!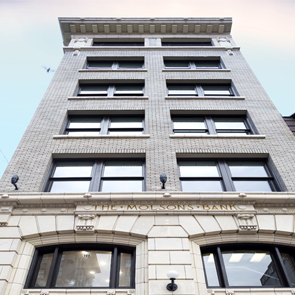 Molson's Bank, Hazelwood Hotel, and Cordova Residence have been recognized at the Heritage BC Awards for Outstanding Achievement in the Heritage Conservation category. (Read more…)
Merrick Architecture is a dynamic design-focused practice of 39 personnel with long-established studios in Vancouver and Victoria. We offer a collaborative environment in which we promote architecture of excellence while celebrating the participation of all employees. Currently we are seeking for immediate employment a BC-registered Intermediate-Level Project Architect with strong design skills, proficiency in both concept design and detailing/documentation, a good working knowledge of the BC Building Code, and
Architectural Technologists REQUIRED IMMEDIATELY in Victoria
Merrick Architecture – Borowski Sakumoto Fligg McIntyre Ltd., a multi-disciplinary and award-winning architectural practice with studios in Vancouver and Victoria, is seeking immediate applications for the position(s) of Intermediate/Senior Level Architectural Technologist(s) and/or Intern Architects. Consideration will be given to architectural technologists, AIBC-registered architects and Intern architects, all requiring demonstrated experience in the production of construction documents and construction administration. Individuals offering architectural training
We are looking for a Intermediate/Senior Level Project Delivery/Coordination Leader to join our Victoria studio.